Brooklyn is just one of the five boroughs of New York but it is a city in itself. That needs no association to exist. That becomes more cool with each passing day. Some would say that it's the place to be.
There are tons of hip neighborhoods in Brooklyn.
We'll start with Dumbo (District Under the Manhattan Bridge Overpass). Located between the Brooklyn Bridge and the Manhattan Bridge.
Take the subway to York Station then walk on Front Street, Water Street, Washington Street and Main Street. Crisscross so you don't miss anything. Take in the photo of the Empire State building that is smack in the middle of the Manhattan Bridge pillar, as if on purpose. Stand at the corner of Washington Street and Front Street and CLICK!
Now go toward Main Street Park to get a fabulous view of the Manhattan skyline and of the Brooklyn Bridge and watch the old carousel go around. Feel the vibes.
If you're hungry, grab a cookie or a hot chocolate at One Girl's cookies on 33 Main Street (super stylish, yummy cookies and very clean bathrooms!). Do you like to read? The gigantic library / loft / art gallery Powerhouse  (37 Main St) is sure to tempt you. For a more eclectic mix of findings and souvenirs, explore Westelm and West Elm market – 75 Front Street and 50 Washington St (a perfectly lovely cafe to be found inside).
ONE  GIRL'S COOKIE
33 Main Street
Map

POWERHOUSE ARENA
37 Main Street
Map

WEST ELM MARKET
75 Front Street
Map

Photo Credit : Nadège Fougeras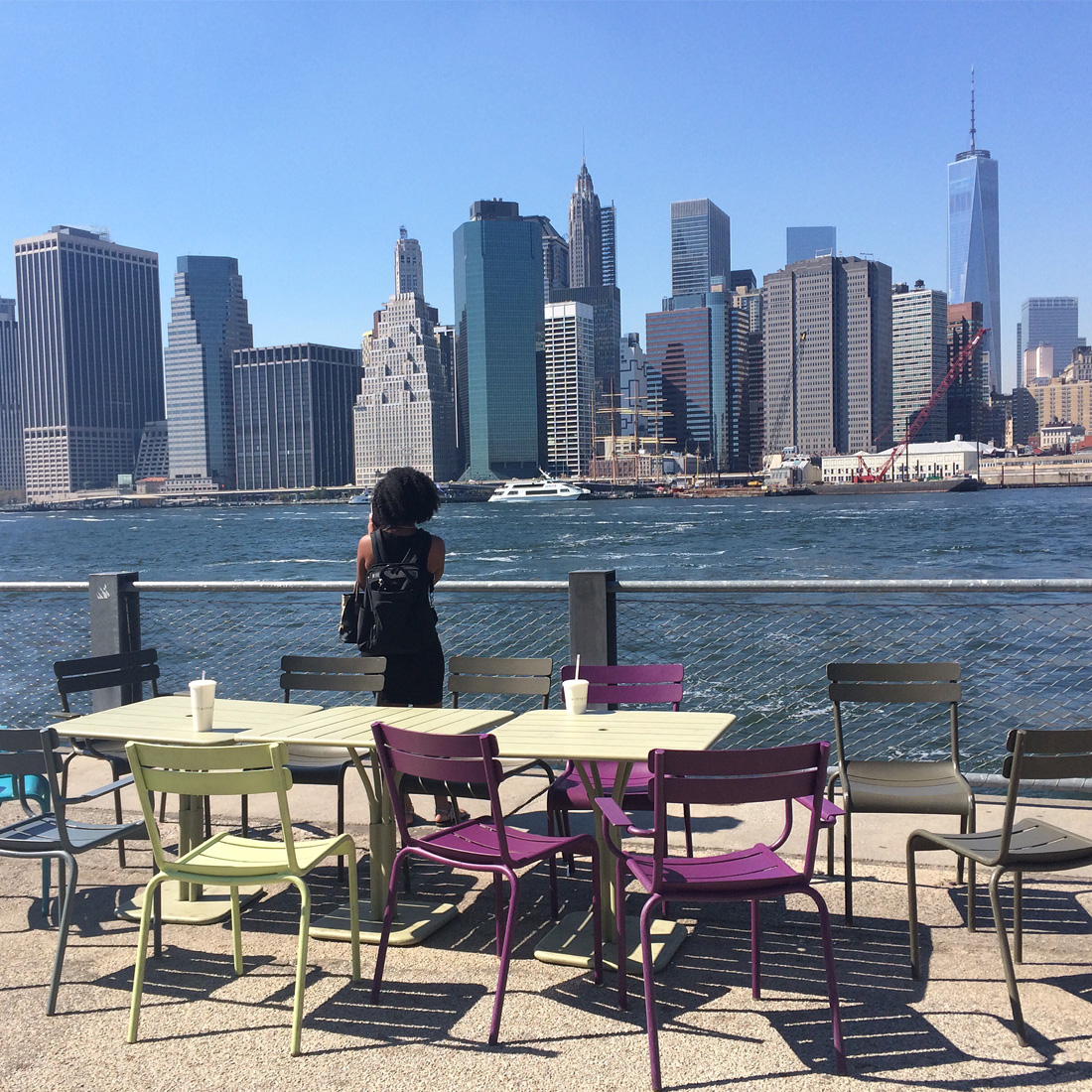 Go a little further down South, and visit Bococa (Boerum Hill, Cobble hill and Carrol Gardens) with the Maze, who explores the city with the prism of design. Our favourite design addresses, amazing selection !